Perspective
04 August 2022
Proximo: Cash in US power and energy transition
In:
Oil & gas, Power, Renewables
Region:
Americas, Asia-Pacific, Europe , Middle East & Africa
From financing the energy transition globally to US power and renewable energy finance, Proximo has something for all project finance practitioners in Austin later this year.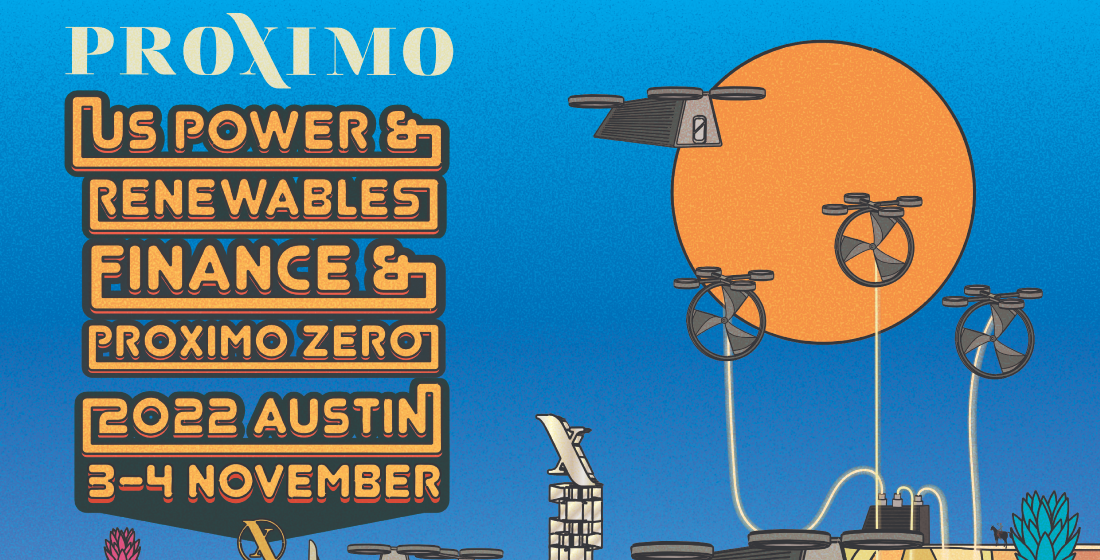 The who's who of the project and infrastructure finance community have already booked their places at this year's Proximo US Power and Renewables Finance event in Austin, Texas from 3-4 November, 2022. Have you got your all-access pass yet?
The energy transition and net-zero targets, coupled with energy security concerns in Europe and parts of Asia, as well as rising EPC and commodity costs all lend to a complex and unique moment in time for US power generation. Successfully navigating competitive pricing, advanced deal structures and innovative divesting will be key to the future state of the US power markets.
That's why it's more important than ever to buckle up and ride into this year's blockbuster project finance event - Proximo US Power and Renewables Finance, at the Hotel Fairmont, which will take place in tandem with Proximo Zero 2022: Financing the Energy Transition, an event focused on approaches to reimagining conventional assets and investing in new, carbon neutral or carbon negative technologies to achieve net zero targets. The two-day conference will also be available to watch on-demand via our very own virtual event platform.
According to Proximo Intelligence's latest Project & Infrastructure Report the North American power market is booming. Renewables dominate, accounting for $35.6 billion across 108 deals in 2021, while conventional power accounted for $13.6 billion across 28 deals. PV solar made up 39.2% of the total deal volume across US power and renewables followed by onshore wind at 18.9% and gas-fired combined cycle power at 18%. Last year's pathfinder project Vineyard Wind, and the focus on energy transition could see offshore wind and battery storage climbing the table in the year to come.
As yet the number of de-carbonisation projects currently active in the US is significantly lower than in Europe and the Asia-Pacific region but the US power market has reached a confluence between traditional power generation and emerging transitional and renewable energy, with the ever elusive CCS and Hydrogen markets seemingly within tangible reach at last. Building and sharing knowledge across sectors on topics such as how to deal with diverse sources of capital and traverse volatile power prices will be key to taking the next steps forward, which makes this hybrid event unparalleled in relevance. Austin is the place to be, come November.
Boasting an attendee list that typically consists of over 70% developers, financial sponsors, institutional investors, funds and investors in attendance, Proximo US Power and Renewables Finance 2022 will be the place to connect with America's leading minds in power. Register today and save $400 with our Super Early Bird rate ending on 12th August.
Recently added speakers include:
Susan Nickey, Executive Vice President and Chief Client Officer, Hannon Armstrong
Erick Araujo, Head of Renewable Portfolio Management, ENGIE
Mark Voccola, Senior Managing Director and Co-Head of Infrastructure US, Ardian
Rebecca Boll, Chief Product Officer, Fluence
Richard Dovere, Chief Investment Officer, EDPR NA Distributed Generation
Lindsey Gorrill, Co-Founder and CEO, KORE Power
Sripradha Ilango, Chief Financial Officer, Soltage
Natalie Jackson, SVP, Head of Capital Markets, Clearway Energy
Tyler Norris, VP, Development, Cypress Creek Renewables
Nick Baker, Vice President, Corporate Development, Buckeye Partners
Ann Anthony, Chief Financial Officer, OPAL Fuels
Marisa Sweeney, Director, Generate Capital
Bret Logue, Chief Executive Officer, Elysian
John King, Co-Founder, CEO, Hyperlight Energy