Perspective
30 September 2022
Proximo Weekly: Germany's FTTH feast
In:
Telecoms and Communications
Project finance lenders are enjoying a high fiber diet in Germany where there are no signs yet of a slowdown in deals coming to market. So what is the blueprint for getting greenfield FTTH deals done relatively quickly in Germany? And can the model be applied more widely across Europe?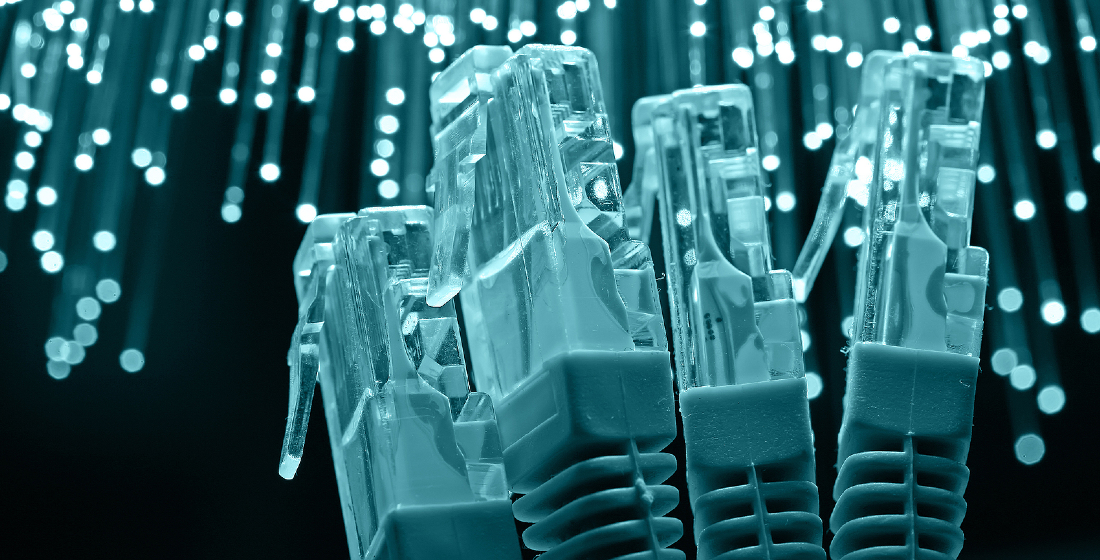 2022 has seen unprecedented growth in project deal volume for fibre in Europe, with Germany spearheading the continent's FTTH campaign. Proximo Data shows there have been at least 16 European FTTH financings that have closed so far this year, and of the near $26 billion (dollar equivalent at time of close) deal volume seen in Europe in the first eight months of 2022, almost $9 billion was claimed by German deals.
German big ticket deals this year have included the $6.5 billion refinancing of Deutsche Glasfaser which closed at the end of March and the $2.3 billion project financing of GlasfaserPlus Holdings, which closed at the end of May. GlasfaserPlus, owned by Deutsche Telekom and IFM, was a five-year deal with a $2.1 billion term loan led by BNP Paribas, Credit Agricole, LBBW, NatWest and UniCredit, with an additional 17 banks on the ticket.
The refinancing of Deutsche Glasfaser – the largest FTTH financing transaction in Germany to date – saw bookrunners ABN Amro, BNP Paribas, Credit Agricole, ING Bank, KfW IPEX-Bank, Santander, SEB, Societe Generale, SMBC and UniCredit lead a consortium of 16 banks on a seven-year $2.8 billion capex facility and a $3.4 billion term loan (a $282 million RCF was also provided).
GigaNetz – an innovative structure?
Deutsche GigaNetz, which closed at the end of August, is the most recent large transaction to have closed in the German market. Debt amount is yet to be made public, but the transaction is believed to support GigaNetz' €3 billion roll out of fiber networks throughout Germany. All the lending banks on the deal; ABN Amro, ING-DiBa, KfW, KfW IPEX-Bank, Kommunalkredit Austria, LBW, NatWest, Nord/LB, and SEB, acted as MLAs.
Unlike the recent big-ticket transactions for Deutsche Glasfaser and GlasfaserPlus, which are pure project financings relying entirely on commercial debt, GigaNetz is using a financing structure that includes government subsidies. The financing concept consists of two main components: funds from the promotional loan program 'Digital Infrastructure of the German Federal Government' and KfW, and funds from an investment facility, in which the interest rate reflects the fulfilment of sustainability goals of Deutsche GigaNetz.
Johanna Reinkemeier, vice president Telecommunication at KfW IPEX-Bank, led the bank team on the deal and explains the roles and collaboration between German promotional bank KfW and its commercial lending subsidiary KfW IPEX-Bank: "One of KfW's goals is to promote digital infrastructure in Germany, which is why KfW offers promotional loans for fibre rollout. By doing so, it provides favourable interest rates for fixed rate loans. Any commercial bank, including KfW IPEX-Bank, can use KfW promotional loans, and therefore offer attractive fixed interest rates to German fibre companies that we could not otherwise offer. So, in this financing (Deutsche GigaNetz), the client combined a commercial facility with a facility using a favourable interest rate from the KfW promotional program, an integration that proved very attractive. We at IPEX have used KfW´s promotional program several times before to finance the fibre rollout of regional utility companies – this was the first time we used it for an investor-backed fibre company with a large banking group. Everyone has put a lot of work into it, and I think the Deutsche GigaNetz financing will facilitate the use of KfW promotional loans in future German fibre deals." The appeal of being able to lock in long term rates cheaply will likely encourage replication of this structure going forwards.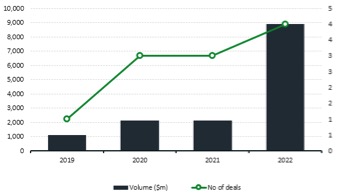 Proximo Data: This graph shows the dramatic increase in deal volume ($m) of German FFTH deals in 2022 and the upwards trend of deal volume since Proximo began collecting data in 2019.
Bankability
Germany's project deal volume and the speed with which deals reach financial close implies strong bankability, but which business models are the most bankable and why?
Deutsche Glasfaser, along with some of the other most bankable deals, came with a guaranteed initial retail customer base. Deutsche Glasfaser, which is building over six million FTTH connections across rural Germany, requires an aggregated pre-commitment of 40% of residents for any given project. This appears to be a rule of thumb approach, with some market sources suggesting that most deals in Germany see an estimated 35-40% pre-marketing, which in turn reassures the banks.
Reinkemeier affirms the benefits of pre-marketing: "Fibre companies in the German market have been using, and many of them still use, demand aggregation, especially in rural and suburban areas. By employing pre-marketing activities, they ensure a certain minimum penetration rate before starting the rollout. This is really something that is different from the UK [which tends to use a preliminary wholesale customer model] and other European markets."
Robert Sunderman, managing director and sector head of Telecom, Media, Technology & Healthcare at ING Deutschland, agrees that pre-marketing will be key going forward: "Structures have become more aggressive in Germany over time, but we see the market turning. As Germany is still in land grabbing mode, some of the largest have managed to do deals without pre-marketing as a drawdown condition, something we continue to see in the smaller deals. But recently banks are focusing again on revenue generation capabilities of projects."
Although lender and investor appetite for German FTTH is still high, Sunderman also notes that "the small players in Germany, those that supply less than 300,000 houses, will need to get a second round of equity and debt but face more challenging market conditions. Companies have to show a track record of meeting business plans, as banks are becoming more critical – which is healthy development". He adds that because "there has been a flood of fiber deals in the European market, banks are becoming pickier and more critical towards loose structures".
Reinkemeier concurs: "We're being approached with a lot of fibre transactions in Europe and especially Germany now. The market has become quite vibrant, and one must carefully look at each deal and the deal parameters. In the end, a transaction needs to meet our internal risk and return criteria and due to the sheer number of deals, each bank must quickly decide on which opportunities to follow." A source from another bank active in the sector said that at this point in time, they are turning down 50% of the deals that are being offered to them because of the sheer number of deals.
The Proximo perspective
Where will the German market go next? Older players, the likes of Allianz and Telefonica, look set to return to the market. Telefonica has been very active across Europe as of late and in the last month alone announced a JV with Liberty Global and InfraVia Capital Partners for a £4.5 billion build out of a new fibre network in the UK as well as a partnership with Credit Agricole Assurances and Vauban Infrastructure Partners for an FTTH platform in Spain.
Beyond the GlasFaser Plus deal, Deutsche Telekom is raising debt as part of other fiber joint ventures. Last month, Meridiam and Magenta Telekom, a subsidiary of Deutsche Telekom, announced they have formed a partnership to invest €1 billion to roll out a FTTH network to over 650,000 homes in Austria. This joint venture approach allows Deutsche Telekom to raise debt off balance sheet.
The near future looks bright in terms of bankable big-ticket German fibre, as ING's Sunderman says: "We expect the German fibre market to still organically grow for the next few years before the real wave of consolidation will start."
Selected news articles from Proximo last week
Calgary releases RFP for Green Line Phase 1
The City of Calgary's Green Line Board has approved the release of the Request for Proposals (RFP) for the design, build and finance of Phase 1 of its LRT project.
FID reached on €500m N05-A gas field development
ONE-Dyas, together with partners EBN and Hansa Hydrocarbons, has made a final investment decision for the development of the N05-A gas field in the North Sea.
Australia backs A$4.5bn urea plant with low-cost finance
The Australian government will provide a A$220 million ($143 million) low-cost loan to Perdaman to help build a A$4.5 billion urea plant in Western Australia.
ACWA signs MoUs for two projects in Senegal
ACWA Power has signed MoUs for projects with both the National Water Company of Senegal (SONES) and the National Electricity Company of Senegal (SENELEC).
SOUTH AMERICA
Engie wins Curitiba street lighting PPP
Engie has won the auction for a public-private partnership contract to manage and operate streetlighting in Curitiba, capital of Brazil's Parana state.
The Proximo Membership
Join a brand new community of project finance professionals getting unrivalled access to unique analysis, market data and a global portfolio of expert industry events in the energy and infrastructure space. Click here to find out more