Proximo Europe: All roads lead to Lisbon
Region:
Europe , Americas, Middle East & Africa, Asia-Pacific
In light of issues such as current commodity price volatility and energy security concerns, the intersection between ECAs and project finance is greater than ever. In June, Proximo Europe and TXF Global will bring together industry players to discuss key project and export finance trends.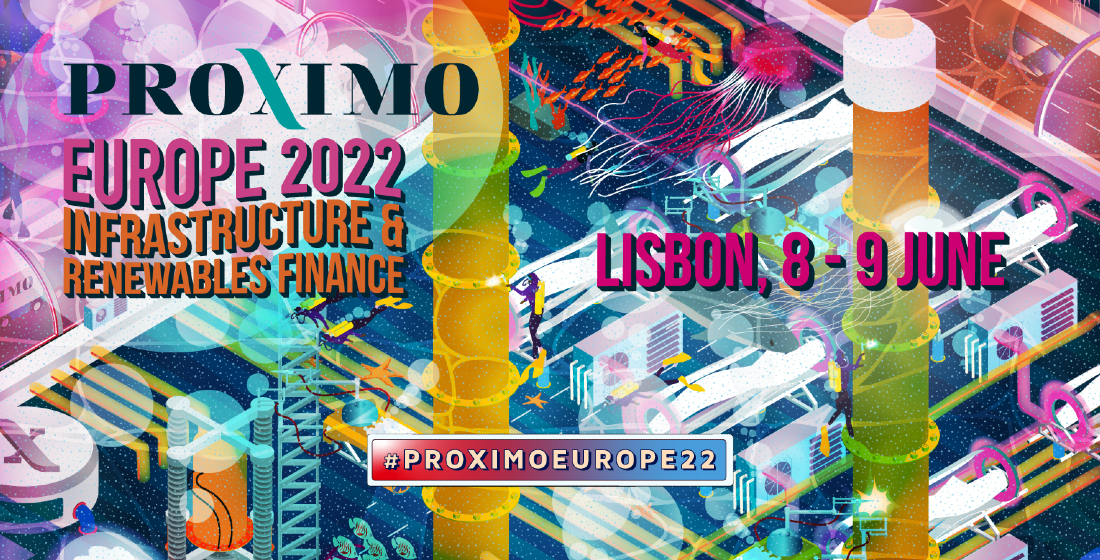 The confluence of climate change, energy security concerns in Europe and parts of Asia, post-pandemic recovery based on infrastructure development and rising EPC and commodity costs have given energy transition and infrastructure financing more urgency than ever before. The opportunities are long-term and bankable – but technology risk and rising EPC costs still present major hurdles for many projects.
This is why you must attend the emerging hub of Lisbon this June; Proximo Europe's agenda is packed with innovative sessions on the top challenges the project finance industry faces for infrastructure and renewables. In the same week, its sister publication TXF will be hosting the global leaders of export & agency finance. With both events bringing the best to one city, there is so much to gain: advance fundraising, grow a fulfilling network, learn more and build more robust pipelines. Unable to travel between 6-9th June? Attend virtually on our very own virtual platforms, watch live sessions and utilise the meeting system; you won't miss out!
The overlap between ECAs and project finance is growing, compounded by heightened geopolitical instability and the stronger focus on energy transition. And according to TXF's annual Export Finance Data Report for 2021, there is room for growth. The volume of debt incorporating ECA support – commercial debt plus cover and/or direct loans – was $104.9 billion in 2021, around $10 billion down on 2020. Of that total volume, ECA-backed debt (direct loans and covered tranches) totalled $78.2 billion (down from $88.5 billion in 2020) or 74.7%.
As large-scale projects become more complex and demand different components from around the world, export finance will be increasingly baked into emerging market big-ticket transactions, particularly across renewables, metals & mining, social infra, and battery storage units. But greater flexibility and speedier due diligence will be needed to meet that demand for ECA support.
Proximo Europe is growing from strength to strength, being the most forward-facing event with experts in its lineup. Recently added speakers include:
Oliver Cass, Finance Director - Dogger Bank Wind Farm, SSE Renewables
João Nicolau, Director of Investments & Partnerships - Hydrogen Business Unit, EDP Renovaveis
Sagar Vaish, Lead Transaction Manager, Ørsted
Phoebe Smith, Senior Investment Director - Europe and Americas, PATRIZIA
Agnes Mazurek, Independent Instructure Finance Expert
Julián Simón, Global Head of Energy Management, Q-Energy
Eric Kuisch, Chief Operating Officer, Eurofibre
Michael Ebner, Managing Director - Sustainable Infrastructure, KGAL
Renato Quesada, Project Finance Manager, Iridium Concesiones de Infraestructuras, S.A.
Michelangelo Aveta, Acting Head of Energy Policy, Climate & Sustainability & Electrification Lead, Eurelectric
Alicja Kowalewska-Monfort, Principal - Energy Storage, Gore Street Capital
Javier Arellano, Director - Corporate Development and M&A, Solarpack
Kashif Khan, Director - Infrastructure & Project Finance, MetLife
Benjamin Kelly, Director - Impact Investment EMEA APAC, Columbia Threadneedle Investments
Sarah Lane, Director - Sustainable Infrastructure, Denham Capital