Perspective
29 April 2022
Proximo Weekly: Upscaling BESS and bankability
The scale of proposed battery energy storage system (BESS) projects in Australia is ballooning fast. But project lenders are still reticent about loosening their purse strings and providing long tenors for the growing sector. Does the Bouldercombe BESS financing proffer the beginning of a bankability solution for mega BESS projects?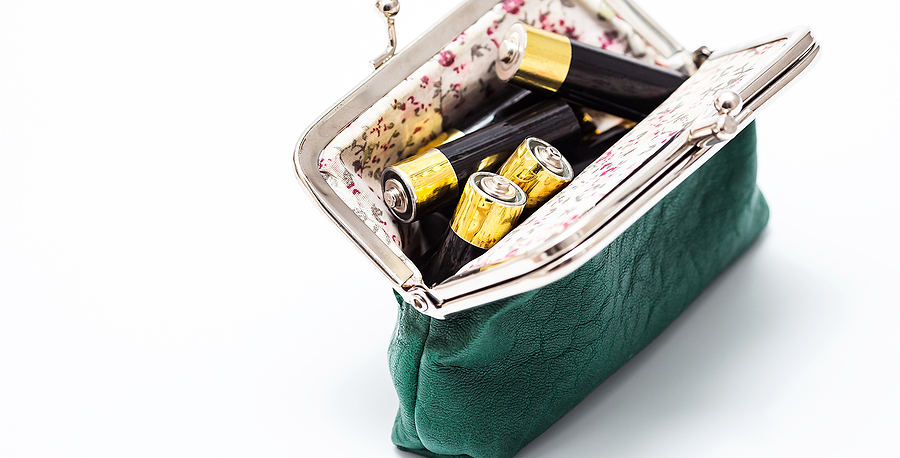 According to the 2022 Clean Energy Report – issued by Australia's Clean Energy Council (CEC) at the start of April – 2021 was a breakthrough year for battery energy storage systems (BESS) in Australia, with 30 large-scale batteries under construction at the end of 2021 totalling a combined capacity and storage duration of 921MW/1169MWh.
But the future pipeline of proposed BESS projects includes schemes that are vastly bigger in scale: EnergyAustralia's 350MW/1.4GWh Woreen BESS, to be built at the site of the existing Yallourn coal-fired power station in Victoria; Origin Energy's 700MW/2.4GWh BESS, to be built at the site of the existing Eraring coal generator in NSW; and CEP Energy's Kurri Kurri BESS in NSW, with a proposed capacity of 1200MW.
What is driving this rapid upscale in ambition? "The rapid emergence of utility-scale battery storage in recent years has led to a reimagining of how electricity grids can be operated. Not only can batteries be used to meet demand when 
output from wind and solar dips, but they have also been used to provide vital frequency control and ancillary services, synthetic inertia and virtual transmission, and peaking services…Energy investors are clearly confident about the important role and commercial viability of big batteries to deliver the reliable power of the future," says the CEC report.
Utility scale battery systems under construction in Australia at end of 2021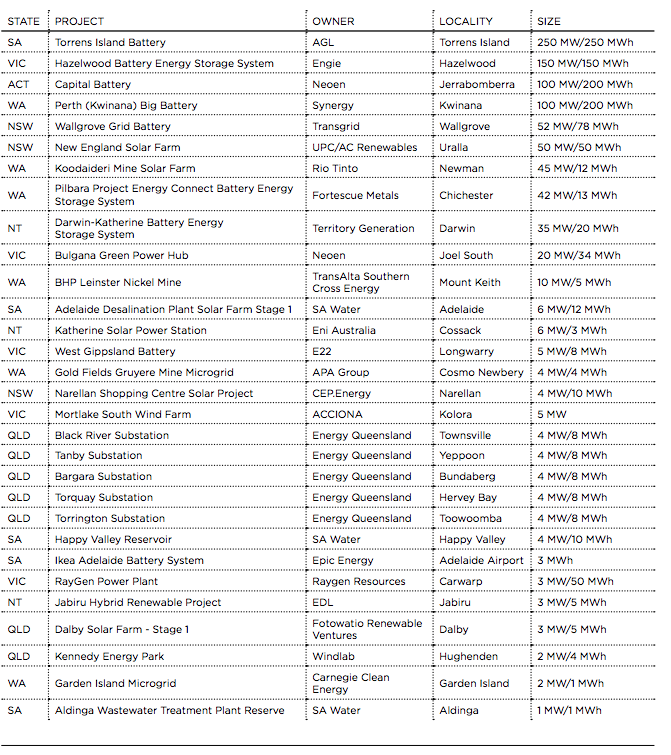 Source: CEC
Bankability and BESS
But of the 30 projects under construction at end of 2021, relatively few have been financed in the commercial debt market. In December 2020 Vena Energy closed on the debt financing for the 100MW/150MWh Wandoan South BESS project – a A$100 million facility provided by BNP Paribas, ING Bank and DBS Bank. And a year later UPC/AC Renewables Australia raised debt for the first stage of its 720MW/400MWh New England Solar project from Bank of China, CBA and Westpac.
However, Neoen's 300MW/450MWh Victorian Big Battery, which reached financial close in February 2021, was financed with equity and a A$160 million senior debt facility provided by the Clean Energy Finance Corporation (CEFC) on behalf of the Australian government. Similarly, the 150 MW/150 MWh Hazelwood Battery Energy Storage System is being fully funded by its sponsors Engie and GIG.
So while investors are clearly confident about Australian BESS projects, banks, at least in terms of putting their balance sheets on the line, continue to be a little more reticent, an angst reflected in the terms (low gearing, front-ended repayment profiles and cash sweeps) and very short tenors typically offered by the Australian project debt market to these types of project.
The problem with BESS project bankability, aside from the technology risk (degradation profiles, operating standards and performance warranties), is revenue risk. An optimally structured BESS project will have revenues from a variety of sources, which include energy price arbitrage, selling ancillary services and negotiated ancillary services. The price arbitrage of the merchant market is very attractive to sponsors given the potential for more equity upside. Conversely, certainty of revenue is the cornerstone of optimal project financing – so no surprise then that all the Australian BESS project that have been financed using external debt have included some form of contracted revenue source.
Bouldercombe
In a bid to overcome that sponsor/banker dichotomy, lenders are beginning to get more comfortable with merchant risk, subject to inclusion of certain debt enhancements. Although relatively small, the recently closed A$35 million debt financing for Genex's 50MW/100MWh Bouldercombe BESS project in Queensland is a prime example of that evolution.
Closed on 28 February 2022, the Bouldercombe deal comprises an A$35 million construction facility provided from funds managed by Infradebt. The construction facility converts into a 12-year amortising term loan post-construction and a fixed interest rate is applied across both facilities. Nord/LB was structuring bank for Genex and Herbert Smith Freehills provided legal counsel.
The innovation in the deal is the means by which it provides both revenue certainty for the lender and merchant upside for the sponsor. That was achieved via Tesla, which in addition to supplying the BESS for the project has signed an Autobidder offtake agreement (AOA): Autobidder is Tesla's real-time trading and control platform, which optimises bids into the National Electricity Market (NEM) to maximise project efficiency and revenue.
Under the terms of the AOA, Tesla guarantees Bouldercombe a minimum contracted revenue for the first eight years thus giving the project lender revenue certainty. At the same time the sponsor retains significant merchant upside on the potential revenue generated above that minimum guaranteed amount, upside that is shared between Tesla and Genex.
The Proximo perspective
In that the Bouldercombe template has leverage limitations – the amount of debt that can be serviced ultimately mirroring the revenue certainty – the deal is an evolution rather than the perfect solution for some of the very large capex Australian mega BESS projects in the pipeline. But the innovation in Bouldercombe – the easing of tensions between sponsor and lender – will have a major impact on the non-mega BESS sector and provides mega projects with the ability to push tenors on a significant part of any debt required to get them built.
Selected news articles from Proximo last week
More details on Gemini Solar + Storage financing
More details have emerged on the very recently closed debt financing of Quinbrook portfolio company Primergy Energy's Gemini Solar + Storage project in Clark County, Nevada.
More details on Netcity fibre refinancing
Further information has emerged regarding the refinancing of the Netcity fibre network in Bucharest, Romania.
ChemOne 's PEC project out to banks next month
Singapore's ChemOne Group is expected to launch the financing to commercial banks for its $3.4 billion Pengerang Energy Complex in Malaysia next month.
Rovuma LNG deal negotiations to restart this year
The $17 billion Rovuma LNG project financing - sponsored by an Exxonmobil-led team – is expected to restart negotiations with lenders and ECAs this year.
Malla Vial de Meta 4G road construction debt closed
Grupo Argos-owned Odinsa has reached financial close on a COP590 billion ($148 million) loan to facilitate start of construction on the long delayed Malla Vial del Meta 4G roads project in Colombia.
The Proximo Membership
Join a brand new community of project finance professionals getting unrivalled access to unique analysis, market data and a global portfolio of expert industry events in the energy and infrastructure space. Click here to find out more