Perspective
17 December 2021
Proximo Weekly: Direct air capture – direct to market?
Can direct air capture of carbon succeed where carbon capture at power stations has so far failed?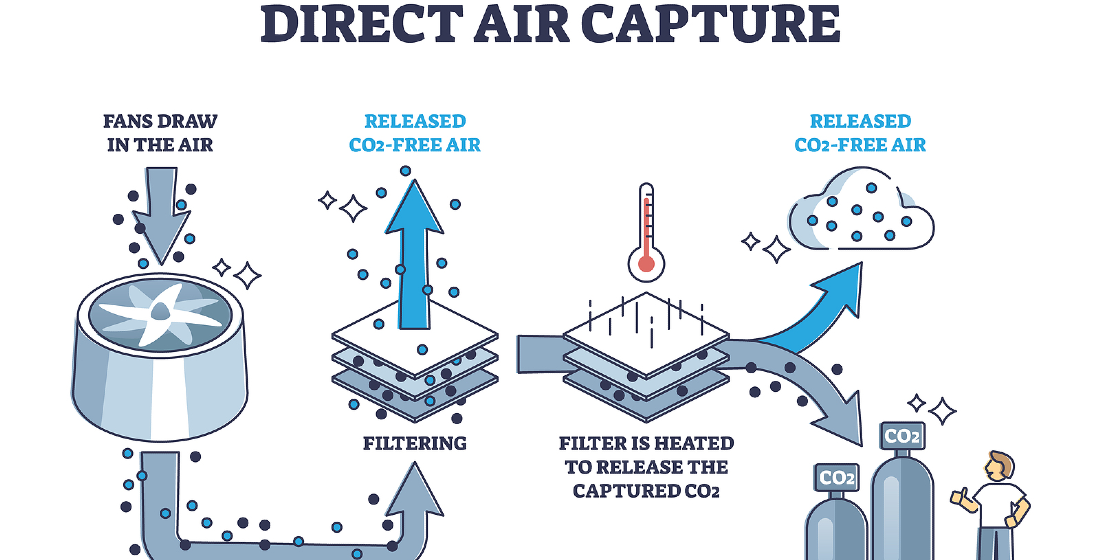 It's the newest, and perhaps least well understood, of the main climate change mitigation technologies.
Displacing carbon dioxide emissions from conventional power generation using renewable sources is well understood, and has a two-decade-plus history in project finance. Capturing and storing emissions from conventional generation and industrial processes is well understood, even if it has been challenging to implement and finance. But direct air capture – literally removing carbon from the atmosphere – has an even shorter pedigree. It has only been under serious discussion for the last 10 years, but is starting to attract some big-name customers and investors.
The most obvious criticisms of direct air capture (DAC) are now well-rehearsed. The process is energy-intensive, and to be truly carbon negative needs to run on renewable energy, which might be better employed displacing conventional generation. And greater concentrations of carbon are available inside the chimneys of fossil-fired generation and industrial units.
But direct air capture's fans have been careful to manage expectations. The process involves using energy to pull atmospheric gases over a solvent that absorbs carbon dioxide and allows that carbon to be re-used or sequestered. Both the re-use and sequestration have value – in limited circumstances.
For now, the challenge for direct air capture developers is proving that their technology works at scale and consistently. Climeworks, a Swiss-based developer, has raised about $110 million in venture capital, and operates a plant in Hellisheidi, Iceland that mineralises captured carbon dioxide in underground basalt formations using geothermal power. In August this year it signed an agreement with Swiss Re that it described simply as worth $10 million over 10 years, without specifying the quantity of CO2 received or the price per ton.
Still, offsets are one of the more obvious uses of direct air capture, providing the costs can get to below $100 per ton. Other offsetting methods, chief among them tree planting, have unpredictable sequestration rates and can have potentially unwelcome side-effects in terms of biodiversity loss.
For corporates seeking clear and easy to measure decarbonisation results from their offsets, and looking for results fast, then DAC, despite its costs, looks promising. But developers will need to sign a lot of contracts "worth $10 million over 10 years" to make the technology bankable based on offsets alone.
Outputs and utility
Alternatively, a developer can re-use that captured carbon. The most high-profile DAC developer, Carbon Engineering, promises to do just that. Carbon Engineering enjoys an outsize presence in the project market, after hiring well-regarded former project finance banker Kerri Fox as its CFO in 2019.
Carbon Engineering's DAC can run either on renewable power, or can run on natural gas, capturing the CO2 from that gas as it runs. Its plants can output compressed CO2 for sequestration or for use in enhanced oil recovery, or it can produce synthetic fuels for use in cars or planes. 1PointFive, founded by Oxy Low Carbon Ventures and Rusheen Capital Management, and which is using Carbon Engineering's DAC technology, recently hired Worley to carry out the front-end engineering and design for a 1 million ton facility.
It is possible to debate whether so much effort should go into capturing carbon only to release it by combustion or use it to extract hydrocarbons, though in most of these instances, the addition of DAC reduces those processes' carbon intensity. But crucially, those outputs have value and are theoretically bankable.
With combustion engines and commercial aviation likely sources of emissions for the foreseeable future, DAC-derived fuel has a promising medium-term future. Moreover, carbon dioxide is crucial to food and drink manufacturing, so much so that the UK government was recently forced to subsidise uneconomical fertiliser production simply to make sure that their CO2 by-product remained available.
From above ground to below ground
The UK government, however, is hedging its bets on carbon capture technologies. On 7 December it released a list of 24 pilot projects in carbon capture that it would support - of which six were direct air capture (one potentially fired by nuclear power), and a seventh involved capturing it from seawater.
But another eight projects involved capturing carbon from biomass, including from biomass-fired power plants and anaerobic digesters, of which five used biochar technology. Biochar effectively involves fixing carbon from biomass as charcoal and using it to improve soil health. Its claimed costs are potentially lower than direct air capture, and its output does have some value in agriculture, though it has been hard to value to date.
So, rather like DAC, biochar has a route to a business model, but still faces some challenges in assigning a value to its outputs - particularly relative to construction and operations costs. But both technologies have the potential to work in out-of-the-way rural areas away from existing transmission infrastructure. With decarbonisation requiring a broad church of usable technologies, both processes could find a profitable niche.
Selected news articles from Proximo last week
Hydrogen projects to benefit from US funding
Norton Rose Fulbright has outlined potential advantages for hydrogen projects in the US resulting from the infrastructure bill that President Biden signed in November as well as the Build Back Better plan that is due to be taken up in the Senate.
Amur GCC pulls multinational lender appetite
More details have emerged on Sibur and Sinopec's recent $9.1 billion dual-currency 14-year project loan for their Amur Gas Chemical Complex (GCC) project.
ECV, B.Grimm Power, Siemens partner on LNG-to-power project in Vietnam
B.Grimm Power and Siemens Energy have joined Energy Capital Vietnam's (ECV) consortium to develop an LNG-to-power project in Mui Ke Ga, Binh Thuan Province, in Southern Vietnam.
31 companies interested in SWPC's Rais-Rabigh IWTP
Saudi Water Partnership Company (SWPC) has received interest from 31 companies for its Rais-Rabigh Independent Water Transmission Pipelines Project.
Colombia's ANI awards ALO Sur highway concession
Colombia's National Infrastructure Agency (ANI) has awarded the 30-year concession for the ALO Sur highway project to original proposer ALO Sur Plural Structure.
The Proximo Membership
Join a brand new community of project finance professionals getting unrivalled access to unique analysis, market data and a global portfolio of expert industry events in the energy and infrastructure space. Click here to find out more