Perspective
24 September 2021
Proximo Weekly: A Chinese solar TEESSer
China's first international non-recourse financing in the solar sector - it's a big claim for a small $80 million deal. But TEESS could yet prove to be the first of many if China delivers on predicted distributed solar growth.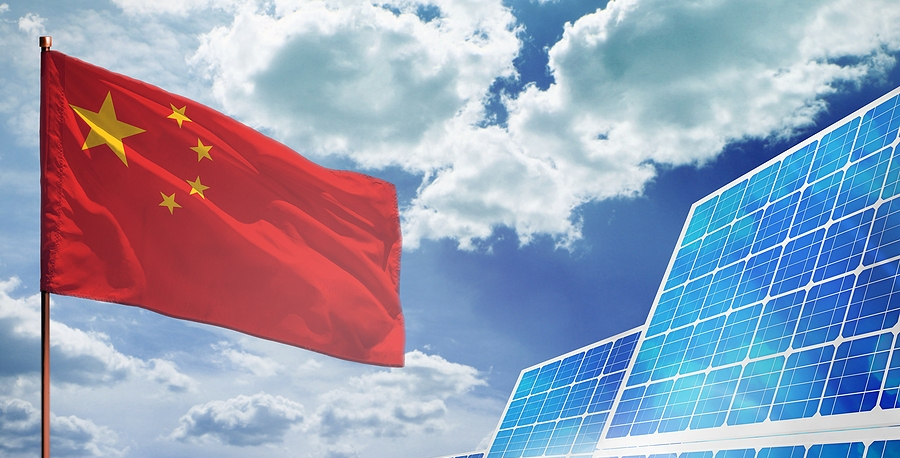 Last month TEESS – a TotalEnergies and Envision 50/50 joint venture in China's distributed solar sector – reached financial close on the first part of a total $80 million non-recourse financing for a 170MW solar portfolio. It's a small deal. But it's also being touted as the first international non-recourse project financing into China's renewables sector and may yet prove a canny move by the all-French bank line-up – BNP Paribas, Societe Generale, Natixis and Credit Agricole.
The pace of expansion in the Chinese distributed solar market is expected to pick up rapidly in the coming years – TEESS alone, which currently has 140MWs in operation, is targeting a portfolio of over 500MW of distributed solar in operation in the next two years.
In late June, China's National Energy Administration (NEA) published a notice on county-level trials of distributed solar power generation. The move is expected to catalyse a new boom in rooftop solar on both public and private buildings, over the next five years (75 county-level governments have picked firms to install distributed solar and are set to start trials).
At the end of 2020, distributed solar accounted for around 78GW (30%) of the 253GW of China's installed solar generation capacity, according to data from the NEA. Distributed solar growth does appear to be picking up in proportion to growth in solar farms – in H2 2021 around 13GW of new solar power capacity was installed, around 50% of which is distributed solar – but put those figures into the overall context of planned solar growth by 2030 and the market's potential for project financiers is significant.
China has set some important energy goals for 2030 – and when China sets infrastructure development goals, it generally meets or surpasses them. Non-fossil energy sources should account for about 25% of all primary energy consumption by 2030, with solar and wind accounting for over 1,200GW. So to meet that goal China needs to more than double its wind and solar capacity in the coming decade. Solar power needs to grow by 80GW a year, of which distributed solar is expected to provide roughly 50%.
Distributed solar, along with the relatively nascent battery storage sector, also looks set to benefit, albeit indirectly, from a forthcoming increase in China's peak retail tariff. The increase is designed to address the widening peak-trough power supply gaps that result from the increasing share of intermittent sources in power generation. Developers of distributed solar power projects likely benefit as they settle power bills or contracts directly with customers and may offer more competitive power prices compared to the higher peak retail tariffs.
Despite all these positives, and the growth of the market to date, access to cheap debt from Chinese banks for small, privately-owned start-up operators has been difficult and expensive – for both industrial-scale and distributed solar developers. Chinese bank renewables lending appetite tends to be for corporate and full recourse, with deals backed by existing assets as collateral – not much use if you are a privately owned start-up. And if the developer does have an existing portfolio of assets to leverage, the recourse loan shows on the borrower's corporate balance sheet as a potential liability, cutting into the borrower's ability to raise more cash for expansion – a system that is far from an engine for the kind of rapid solar growth the Chinese government is looking for.
Those issues are compounded for distributed solar operators because even were domestic non-recourse deals available, individual transactions are small and uneconomical if financed separately.
The TEESS deal overcomes those two major hurdles – it is non-recourse and takes a portfolio, rather than individual transaction approach. The TEESS deal also has solid green credentials – it is the first solar deal in China to be certified by a third party, Sustainalytics, an aspect of the deal that widens its potential for repetition beyond the bank market and into the institutional ESG-driven debt fund arena.
It may be small, but TEESS could yet prove to be the deal that paved the way for non-recourse debt in a new and rapidly expanding Chinese asset class.
Selected news articles from Proximo last week
NORTH AMERICA
Vineyard Wind: Full-scale US offshore at last
The debt package for the Vineyard Wind 1 offshore wind farm had few surprises. By demonstrating that tenors and tax capacity should not hold up financing activity it was just the boost the market needed.
EUROPE
Lightsource BP closes $1.8bn corporate loan
Lightsource BP has secured a $1.8 billion syndicated revolving credit and trade finance facility from BNP Paribas, Societe Generale, Santander, NatWest, Lloyds, MUFG, SMBC, CIBC, Toronto-Dominion and Wells Fargo.
ASIA-PACIFIC
San Miguel gets go-ahead for Pasig River Expressway
San Miguel Corporation (SMC) has signed a Supplemental Toll Operations Agreement (STOA) with the Department of Transportation, which will allow it to begin constructing the Pasig River Expressway (PAREX).
MIDDLE EAST & AFRICA
Amaala plans $2.6bn green loan for Saudi resort project
Saudi Arabia plans to raise a green loan of up to SAR10 billion ($2.65 billion) next year for the Amaala tourist resort project on the Red Sea coast.
SOUTH AMERICA
Ecuador plans 500MW renewables tender
Ecuador has unveiled plans to tender 500MW of renewable energy capacity under Non-Conventional Renewable Energies Block I (ERNC).
The Proximo Membership
Join a brand new community of project finance professionals getting unrivalled access to unique analysis, market data and a global portfolio of expert industry events in the energy and infrastructure space. Click here to find out more