Proximo Weekly Digest: ACWA wins latest giga-project gig
in
Renewables, Social infrastructure
Saudi's PIF-led giga-project pipeline is still being fast-tracked and proving a boon for ACWA Power. But will the speed of return on these projects for PIF and other potential investors meet expectations?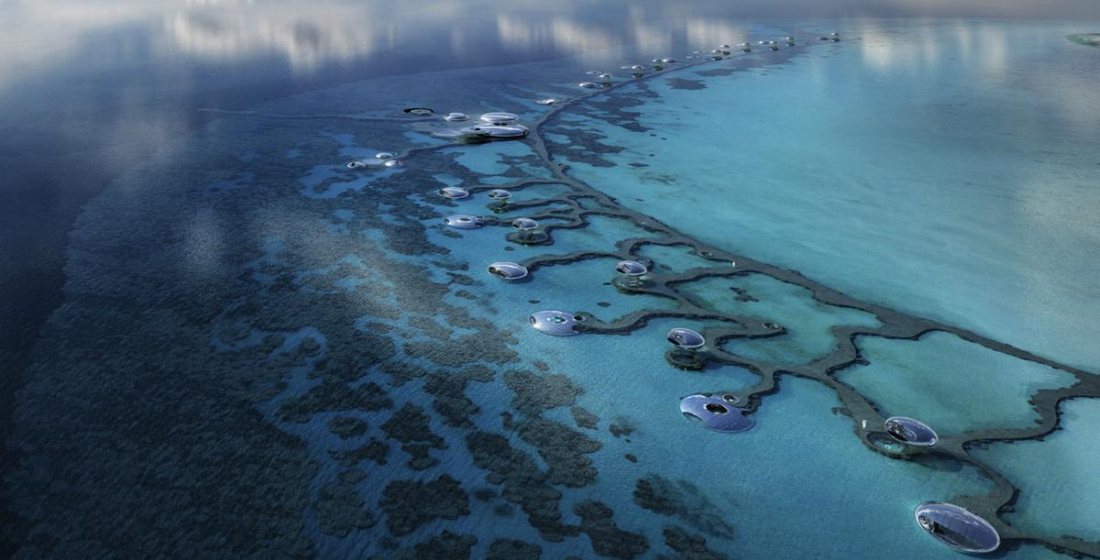 Another piece of Saudi Arabia's giga-project pipeline has been all but awarded. ACWA Power and China Energy Engineering Group (Energy China) have been appointed preferred bidder for the $1.7 billion Red Sea utilities project in Saudi by PIF-owned The Red Sea Development Company (TRSDC). The scheme, which has been awarded on a PPP basis, will provide all utility services – renewables-based power/storage, desalination, sewage and waste, and district cooling – to the Red Sea Project, an integrated sustainability-based high-end leisure resort giga-project led by PIF and being developed under Saudi's Vision 2030.
The scheme is another Saudi giga-project coup for ACWA which in partnership with Saudi Aramco and Air Products is to also build a $5 billion world-scale green hydrogen-based ammonia production facility powered by renewable energy at another PIF-led scheme – the NEOM giga-project (a $500 billion futuristic sustainable city, forecast to be home to a population of one million-plus). Air Products is offtaker for the green ammonia and plans to export globally.
The ACWA/Energy China bid beat a rival BAFO from Engie/Masdar/Power China for the Red Sea utility concession. Although smaller in dollar volume, the project is arguably more complex than the NEOM-linked deal given its multiple technical facets. TRSDC expects peak power to reach 210MW in the first phase of the project and 360MW in the second phase. Two seawater reverse osmosis (SWRO) plants will also be developed in the first phase to provide a capacity of 30,000 cubic metres a day (cm/d) split between potable water 21,000 cm/d, and irrigation top-up 9,000 cm/d.
Under the second phase, an additional SWRO plant will be developed in addition to brine squeezer and chlor-alkali technologies to meet expected demand of up to 50,000 cm/d, split 39,000cm/d and 11,000cm/d between potable water and irrigation top-up respectively.
The project also involves developing a sewage treatment plant (STP) with a capacity to treat up to 18,000 cm/d of sewage under the first phase, and 34,000 cm/d by 2030. For the waste treatment development, the PPP contract covers collection, automatic recovery and waste-to-energy production for up to 30 tonnes per day (t/d), rising to 55 t/d by 2030.
PIF is guaranteeing payments on TRSDC's 25-year offtake agreement with the project, and the debt repayments on a $1.3 billion project financing to be provided by Standard Chartered, Mizuho, Saudi British Bank (SABB) Al Rajhi and Saudi Fransi. TRSDC has financial advisory from EY and Clifford Chance as legal counsel.
The two awards featuring ACWA are no real surprise. ACWA Power has a well-earned reputation for highly competitive bidding across the international project finance market and has the additional bonus of PIF – which is lead investor on all the Saudi giga-projects – as a significant shareholder.
However, what is surprising is that the giga-projects are still being fast-tracked given the predicted $100 billion deficit Saudi faces this year (the country posted a $29 billion deficit in the second quarter of 2020); the oil price still floating around the $40 per barrel mark and far below Saudi Arabia's break-even price; and the unprecedented austerity measures put in place earlier this year that included a tripling of VAT to 15% and the suspension of a cost-of-living allowance for state employees.
The giga-projects are being touted as a major boost in the diversification away from Saudi's heavy reliance on oil revenue, and given an oil major like BP recently publicly announced the end of the growth era for oil and gas, economic diversification has gone from being a good idea for Saudi to a must. But even in the pre-Covid economic environment there was a touch of "if you build it, they will come" about the giga-projects. The NEOM hydrogen/ammonia project is export driven and arguably insulated from whether the overall NEOM city project is successful and attracts the kind of population numbers predicted. But the success of the TRSDC utilities scheme, while not a problem for ACWA given the PIF guarantees on the deal, is potentially a future headache for PIF given it is reliant on the wider Red Sea Project meeting forecast levels of tourism – 800,000 to 1 million visitors annually once the whole development is complete.
Whilst those numbers are very small compared to the established Egyptian Red Sea package holiday resorts, the Saudi project is aimed at the very high end of the market – and let's be honest, persuading one million of the very rich, every year, to take a break in Saudi rather than one of a multitude of competing high-end global destinations, without relaxing local alcohol laws, might be a push – even with Muslims accounting for around 1.24 billion of the global population.
That problem is compounded by the fact that while the Red Sea Project is probably the most advanced tourism project to date in terms of sustainability, for many, the provision of high-end luxury and sustainable development are incompatible – the very notion of building more than is required for meeting basic comfort-level human needs in a green tourism environment may prove hard to sell to some.
These viability concerns extend to other tourism based Saudi giga-projects – notably the Qiddiya sports and entertainment city project, for which ACWA Power and Al Fanar are competing – which are also led by PIF and all of which are ultimately the brainchild of, and politically driven by, Crown Prince Mohammed bin Salman. Furthermore, Saudi's track record for vast infrastructure development projects is patchy at best in terms of on-time delivery and sticking to budgets.
In the very long-term the projects will likely deliver, and if the oil price gets back up to around $60 per barrel post-Covid, Saudi's deficit problems dissipate anyway for the time being. But for PIF, these fast-track projects are unlikely to bring fast-track returns, an issue that may make them a difficult sell to potential investors outside Saudi. And as for western holidaymakers like myself, even were I in the privileged position of being able to afford a luxury holiday at a giga-project – I'd still want some glug with the gig.
Selected news articles from Proximo last week
NORTH AMERICA
Enel X and Ardian team up for Canadian battery projects
Enel X (20%) and private investment house Ardian (80%) have entered into a joint venture to develop and own battery storage projects in North America.
EUROPE
Portugal lists solar auction winners
The Portuguese government has published the list of winning bidders in its August solar auction.
ASIA-PACIFIC
King & Spalding hires Anthony Patten and Lachlan Clancy
Anthony Patten and Lachlan Clancy have been appointed partners at King & Spalding's Corporate, Finance and Investments (CFI) Practice Group in Singapore, both joining King & Spalding from Shearman & Sterling.
MIDDLE EAST & AFRICA
Tatweer names preferred bidder for Saudi schools PPP
Tatweer Building Company (TBC) has named the consortium of Ajyad Knowledge for Education and Training and Al Bawani Company Ltd as the preferred bidder to deliver Wave 1 of Saudi Arabia's Schools PPP programme.
SOUTH AMERICA
Four banks sign $450m loan for Lima airport development
Lima Airport Partners – which is majority owned by Fraport – has signed a $450 million financing agreement for its airside development program at Jorge Chavez International Airport in Lima, Peru
The Proximo Membership
Join a brand new community of project finance professionals getting unrivalled access to unique analysis, market data and a global portfolio of expert industry events in the energy and infrastructure space.
Click here to find out more