The Proximo Weekly Digest - Has there been a COVID-19 effect on project debt volumes?
Region:
Europe , Americas, Middle East & Africa, Asia-Pacific
The deep impacts of COVID-19 on societies and economies worldwide may lead to drastic changes in the way infrastructure is procured. But what, according to Proximo Playbook's H1 2020 data, are the short-term effects?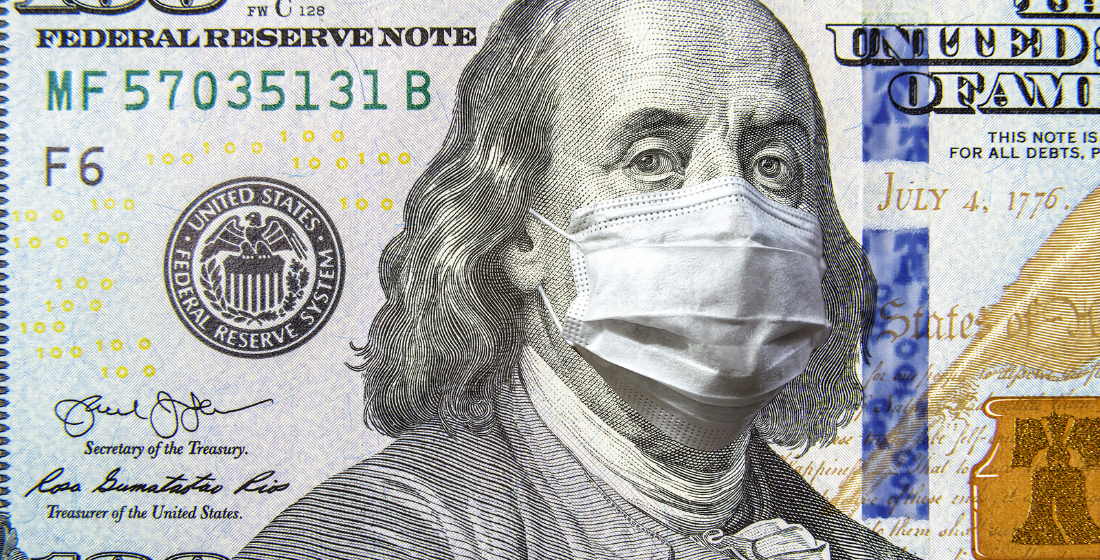 With infection and death rates from Covid-19 falling in most developed markets, it's easy to feel like life is starting to get back to normal. Step into any English pub and, aside from the ubiquitous black and yellow tape. the scene might almost be from memory.
There are, of course, difficult long-term questions that will need answering about transportation systems in the era of working from home and persistent nervousness about air travel and mass transit. The long-term challenges of decarbonising transportation and power infrastructure have not gone away.
Projects that recently entered construction will have had to cope with challenging working conditions. Those that were exposed to volume risk, particularly in aviation, will be coping with the aftermath for a long time. Low oil prices have encouraged national and international oil companies to accelerate their pivot (or rebranding) towards majority renewable energy operators.
But in the short term, financial markets adapted. Virtual signing ceremonies took place, documentation could be put together remotely, conference calls have been, arguably, improved with the use of video calling technology. Pitching clients could be challenging, but execution was, in theory, manageable.
So how did volumes hold up? Proximo used the first 18 months of data that it has collected for its Playbook to compare volumes in the first halves of 2019 and 2020. The headline figures show a fall in volumes, and renewables volumes overtaking oil and gas volumes. But drilling down to monthly volumes and looking at regional activity paints a murkier picture.
Headline volumes are down sharply – from $150 billion in H1 2019 to $120 million the same period 2020. Transaction numbers fell less sharply – from 404 to 388. Trends over time are broadly in line quarterly activity. Volumes tend to peak in Q4, as banks race to meet year-end, fall back in the first quarter of the year, recover in quarter two, and fall back in Q3 - the summer months in the northern hemisphere.
Project volumes by quarter, 2019-20 ($m)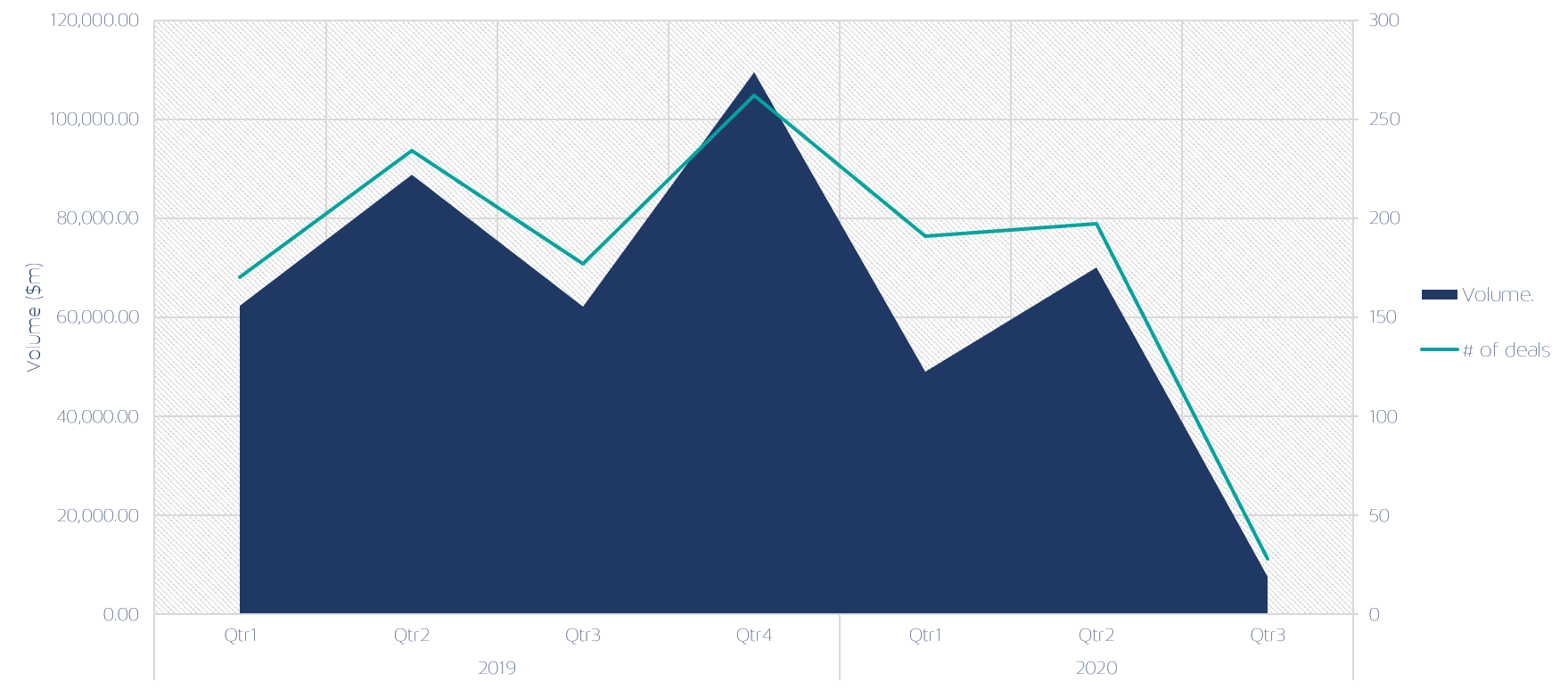 Source: Proximo Playbook
A smaller number of blockbuster oil and gas deals is the major culprit – and might presage a more stark shift away from hydrocarbons – though the number of these deals is very volatile. Monthly volumes show small falls on the same month the year before early in the year, a tick up in April, a big fall in May, and then a recovery in June. But the May fall – roughly $10 billion – would not have happened if just two deals – Brazil's TAG and Bahrain's BAPCO expansion – had not closed in May 2019.
Africa posted higher volumes largely because of one deal – the Nigeria LNG Train 7 financing. Latin America and the Middle East posted lower volumes in large part because of depressed oil and gas activity. Europe and North America actually posted higher volumes in the first half of this year – for very different reasons. In North America, oil & gas volumes actually increased, off the back of higher upstream and LNG activity. But in Europe renewables, and not just any renewables, but offshore wind, led to a huge increase.
What did this mean for banks? It led to something of a changing of the guard. The three Japanese mega-banks – SMBC, MUFG and Mizuho – plus Santander, made up the top four in H1 2019. By H2 2020, SMBC and Santander were joined by French banks SG and BNP Paribas, and higher offshore volumes were almost entirely responsible.
If these trends are sustained, it will mean that the business imperative will be almost as strong as reputational imperative in pushing banks to concentrate more on renewables than oil and gas. MUFG's Americas project finance team, on a conference call last week, could point to healthy oil & gas volumes as a reason to keep faith with the sector. But the picture may not be the same globally, however.
Details of the data, and a snapshot for download, are available by viewing the webinar below.
$WebinarVideo
NORTH AMERICA
CIBC adds some clout to global renewables capability
CIBC has added some serious clout to its global renewables team with the hiring of James Wright and Frank Palladino in New York, and Robert Todd in London as managing directors.
EUROPE
Dogger Bank equity and debt progressing
Non-binding offers are due today for a £450 million equity stake (equivalent to 20%) in SSE and Equinor's £5.5 billion Dogger Bank offshore wind project in the UK.
ASIA-PACIFIC
First Japanese hydro PFI debt signed
M&C Tottori Hydro Power – a joint venture between Marubeni subsidiary Mibugawa Electric Power, Chubu Electric Power, Chubu and Miho Technos – has signed the debt financing to back the 20-year PFI concession it signed in July with Tottori Prefecture.
MIDDLE EAST & AFRICA
EBRD considers loan to ACWA for Egyptian solar project
EBRD is considering an application from ACWA Power for a senior debt financing of up to $40 million for the construction of a 200MW solar park in Kom Ombo, Egypt.
SOUTH AMERICA
Refinancing closed for Red Vial 4
Aleatica subsidiary Autopista del Norte has closed a $350 million senior secured refinancing for its 25-year Red Vial 4 toll road concession connecting Pativilca and Puerto Salaverry along the Peruvian coast.
The Proximo Membership
Join a brand new community of project finance professionals getting unrivalled access to unique analysis, market data and a global portfolio of expert industry events in the energy and infrastructure space.

Click here to find out more