Americas Deals of the Year 2019: The winners' enclosure
In:
Metals and Mining, Oil & gas, Power, Renewables, Telecoms and Communications, Transport
The market has spoken, and the winners have accepted their awards. 2019 brought together some big, complex and innovative transactions - sometimes all three at once. Here are the winners for the Americas.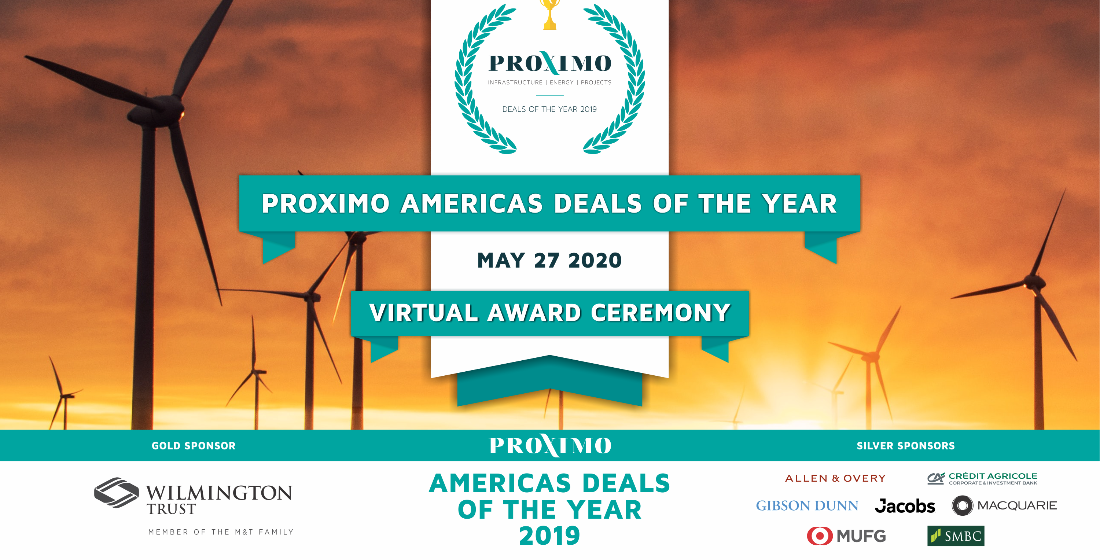 Americas Deals of the Year 2019: The winners' enclosure
Writing about the 2019 financing market in May 2020 is slightly surreal. So many sectors are suffering from the downturn in economic activity that it's sometimes hard to review the achievements of the previous year dispassionately. But 2019 was a year of huge advances - in tweaking PPP structures, in embracing newer renewables technologies, and simply banks being able to write larger tickets.
The market certainly felt that way. All of the winning transactions appeared on Tagmydeals - the open platform that powers Proximo's Playbook data platform - which allowed all market participants to vote on their merits. While voting closed before COVID-19 truly hit, the process allowed Proximo's editorial team to focus on the deals with the strongest support. In turn, our team awarded deals with the potential to influence the market over the next two years rather than focus on their vulnerability to an unprecedented pandemic.
In the Americas region featured a very strong shortlist of candidates – a mix of bank and bond, commercial and DFI, contracted and demand risk, and new and proven technologies. In addition, Proximo awarded three awards to developers - overall winners for each of North and Latin America, as well as a newcomer in Latin America. We're confident that both regions will retain their global leadership in financing best practice, and continue to be popular with banks and sponsors.
Only deals that signed or reached financial close in 2019 in Europe, Middle East and Africa, in all sectors (other than traditional real estate) where project financing is used, were eligible for inclusion.
Proximo recognised the new reality by holding a virtual awards ceremony for the winners, with the Proximo team presenting awards, and representatives of each project accepting them. The ceremony went out live on 27 May 2020, but is available for replay here.
The winners:
North America Petrochemicals - Gulf Coast Ammonia
North America Oil & Gas - BCP Permian Pipeline
North America LNG - Venture Global Calcasieu Pass
North America Renewables Distributed Generation - Project Arcadia
North America Renewables Acquisition - Nitrogen
North America PPP - EWR Conrac
North America Rail - Mobilinx Hurontario
North America Ports - Long Beach Container Terminal
Latin America Oil & Gas Acquisition - TAG
Latin America Renewables Portfolio - Condor
Latin America PPP - Rutas del Este
Latin America Roads - Autopista al Mar 1
Latin America Communications - Ascenty Data Centers
Latin America Power - GNA 1
Latin America Power Refinancing - Techgen
Latin America Mining - Quebrada Blanca 2
Latin America Newcomer - China Harbour Engineering
Latin America Developer - Sacyr
North America Developer - Invenergy