Chinese takeaways
Chinese inroads into Latin American project markets are on the rise – and US isolationist policies have helped. With Chinese sponsors willing to take on the type of risk that others will not, is a massive increase in Chinese project financing into Latin America a political and economic inevitability?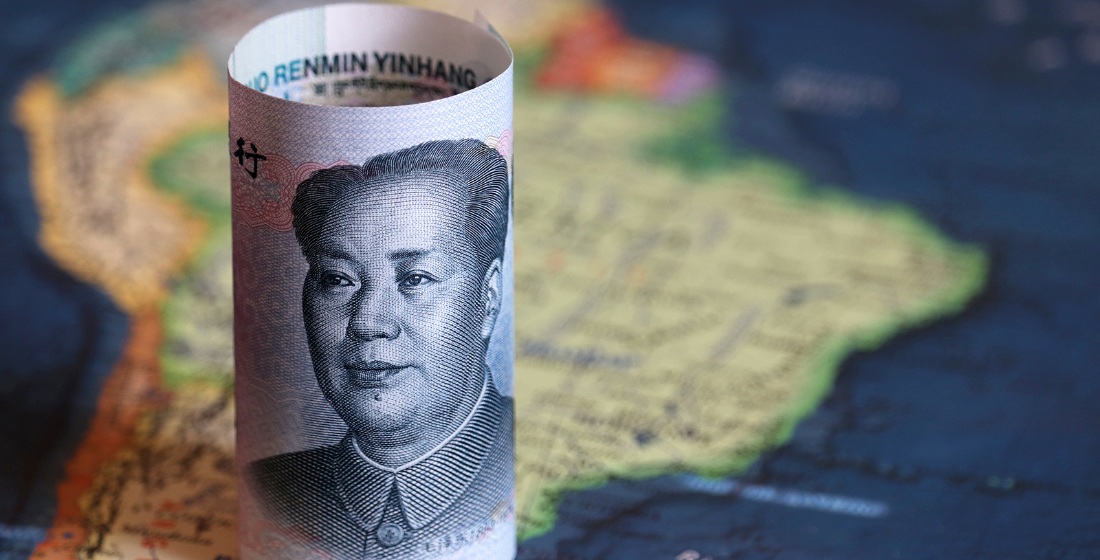 A recent trip to Paraguay was dominated by speculation of a Chinese investment invasion into neighbouring Argentina. Both private sector meetings and talks with public sector contacts veered into the likelihood of Argentina following much closer ties with China as often as the likely outcome of the talks with its larger neighbour, Brazil, about the future agreement on the massive hydroelectric dam Itaipu.
Paraguay is particularly sensitive about the prospect of closer ties between Argentina and China. For one thing, Paraguay remains an ardent support of Taiwan while other countries in the region such as Panama, the Dominican Republic and El Salvador have abandoned such policies to open financial channels with Beijing (Paraguayan government officials say there is no prospect of Paraguay reversing its policy on Taiwan, even though it means the country has no diplomatic relations and zero trade with China). The prospect of China ramping up its presence in its Mercosur neighbourhood makes those in finance and government in Asuncion uneasy. But there are strong expectations that will happen, not least because it is already underway.
The Sino-Argentina relationship had cooled under former president Mauricio Macri but since the presidential election victory of Alberto Fernandez (and importantly his vice president Cristina Kirchner) the China sees renewed opportunity to build upon its earlier work.
Cristina Kirchner – who herself signed more than 20 treaties with China during her time in the Casa Rosada (2007-2015) – wasted little time in visiting the Condor Cliff and La Barrancosa hydroelectric dam projects that had been effectively mothballed during the Macri administration. The projects, in Argentina's Santa Cruz project, are being 85% financed by the China Development bank and Kirchner's decision to personally attend the re-launched works (one of the dams will be named after her late husband) is a strong hint of what is to come. Because these dams are not just large projects in themselves – they are the linchpin of the future of China-Argentina financial cooperation because the contract includes a "cross-compliance clause" that makes its construction a pre-requisite for future Chinese-financed projects in the country.
The new administration is also looking to kick-start an agreement with China to build two nuclear plants (signed in 2015) – expected to be 85% financed with a $10 billion loan from the Industrial and Commercial Bank of China (ICBC).
Why China?
The Paraguayans who were speculating about the increase in Chinese involvement across their southern border admitted that their predictions that Fernandez would seek huge sums of Chinese money, and would be willing to sell off assets "from fisheries to Vaca Muerta" in return, weren't based on personal conversation with the new Argentina administration. The calls are based on logic, they said. But the logic seems unassailable. With $100 billion in debt and having zero access to further funding from the international capital markets and the IMF for the foreseeable future the government's financing options are limited. The government has even antagonised local investors due to decisions about unilaterally postponing repayments on peso-denominated (though dollar-linked) local bonds. This has created difficulties in rolling over existing local currency debt and, in what many analysts call a needless own goal, further restricted their financial options.
Then there is China. Even amid the current financial issues caused by Covid 19 the long-term perspective of tying Argentina close to China is an attractive one. Meanwhile Argentina has benefited from a $19 billion currency swap with China and President Fernandez is keen to agree an extension to this arrangement.
For China there are also strong reasons to deepen the arrangement. First, China has had limited success in the region in brokering treaties for its Belt and Road Initiative (BRI). Though 19 Latin American and Caribbean countries have signed such agreements there has been a noticeable lack of the Big Countries – Chile excepted.
Second, Argentina is a good customer: the Latin American country has a $2 billion trade deficit with China (10.8% of Argentina's exports go to China and 18.9% of imports come from China). That trade deficit could be improved in Argentina's favour: after all, China's appetite for agricultural commodities, other commodities and energy are all ripe with potential in Argentina.
Then there are all those projects: 75 Chinese companies already operate in Argentina and that number is set to grow. China is also prepared to stump up beyond the headline projects.
The second largest global economy has also signed up to finance and build railroads and solar energy projects. The latter is important if Argentina is to increase its current rate of generating just 9.65% of energy from renewable sources – especially given the challenging financing environment for current projects. According to argentine renewable energy association Cader, the financial crisis in Argentina – which seems to be on a one-way journey to sovereign default – is leading to the postponement of some of the renewable projects that are underway – and a distinct lack of interest in financing newly proposed projects.
The Arauco I and Arauco II wind farms project – financed by BNP Paribas, IDB Invest, BICE and Siemens Financial Services – has seen disbursements stop on its $150 million loan. Meanwhile, Argentine company Eoliasur has also seen payments stopped on a $85 million credit line for two of its renewables projects (provided by KfW IPEX, FMO and DEG). For its part, Pampa Energia has abandoned some of its renewable projects – including its $74 million Pampa Energia IV project – due to the high cost of local debt. The government's freeze on electricity tariffs – part of its unorthodox bid to control inflation in the country – is also clearly hampering the business case for fresh energy projects.
Regional interests
The prospect of the Chinese cavalry riding to Argentina's financial aid should be seen in a broader regional perspective. Latin America has key strategic benefits for China – those commodities (agricultural and otherwise) from a resource-rich region fit within the Chinese long-term view of where it needs to be developing its interests. Since 2005 China has invested $150 billion in energy, mining and infrastructure projects: 90% of which have been funnelled to Venezuela ($62 billion), Brazil ($42 billion), Argentina ($18 billion) and Ecuador ($17 billion). However, the numbers involved mean that there has been a lot of money dispersed around the region: China is currently working on hydroelectric dam projects in Belize, Bolivia, Colombia, Costa Rica, Guyana, Honduras and Peru as well as Argentina, Brazil, Ecuador and Venezuela.
While China is keen to continue to commit to the region – and is helped by the US become more isolationist with regards to the continent due south – it is trying to deploy capital in more sophisticated ways than the "debt-trap diplomacy" arrangements as some of the bi-lateral agreements have sometimes been critiqued (and not just in Latin America).
China's desire to frame today's financial agreements as BRI have stalled with the large Latin American economies (again, with the exception of Chile) and Beijing will be keen to use its leverage in Argentina to add President Fernandez's signature to the list of BRI nations (though US control of the IMF will require him to be somewhat circumspect in the short-term it is likely Argentina will sign-up at some point during the current administration).
Brazil is another target nation on China's financial sponsoring list. During the presidential campaign of now-president Jair Bolsonaro, he often gave fiery anti-Chinese speeches, designed to show his desire to realign Brazil away from the previous PT administrations openness to China. That had led to strong financial ties – not least the development of the BRIC development bank that Brazil signed up for. However, since assuming the presidency Bolsonaro seems to have accepted the ongoing need for Chinese support in infrastructure – especially as alignment to the US has been lightly rewarded (for example, the US's reluctance to sponsor Brazil's admittance into the OECD).
At the end of last year the Chinese Communications Construction Company (CCCC) signed a statement of intent with Para's government to invest BRL7 billion (then $1.6 billion) in a 492 km railroad to link Maraba and the Vila do Conde port in Barcarena – a key infrastructure project to boost Brazilian agricultural exports. State-level agreements seem to be the Chinese's new strategy of deploying investment into Brazil: in May 2019 Bahia State Governor Rui Costa secured $7 billion in finance for an "integrated development project" including an industrial park and the revitalization of the Aratu port. Costa also attracted a further $1 billion for wind and solar projects.
But it's arguably with Colombia that China has made the biggest advance in recent years. After a seemingly longstanding policy of keeping Chinese companies at "arms-length" from their economy the Colombians have begun to open up. It is no coincidence that President Ivan Duque made an official visit to Beijing within his first year – a clear sign of prioritizing the country as an export destination for Colombian companies but it has also led to Chinese investment into the south American economy. First, China's Zijin Mining Group bought a gold mine in Colombia and then, more significantly, a consortium led by China Harbor Engineering Company won the tender for the construction of the first line of a metro for Bogota – with a contract worth $4.5 billion. The consortium has committed to build an elevated subway comprising of $24kms of viaduct and 16 stations. Other Chinese success include China Civil Engineering Construction Company's $1 billion to build a 41km electric tram link between Bogota and Facatativa. Chinese company BYD also won the contract to supply 64 electric buses to the city of Medellin; as well as the awarding of the construction of the Mar 2 highway, a 456km highway between the cities of Neiva and Mocoa (as part of the 4G road network project) to the Colombian subsidiary of China Construction America – itself a subsidiary China State Construction Engineering Corporation.
ProColombia, a governmental agency that promotes Colombian exports, says that direct Chinese investment into the country has grown from almost nothing in 1994 to a peak of $55.7 million in 2016 and has been around $30 million since. However, these numbers are likely to be dwarfed in the coming years if Duque's administration maintains its openness to Beijing.
In Chile the electric buses are also being used as a spearhead into closer economic and financial ties. Chile – also the standout regional signatory to the BRI – has a strong interest in keeping Beijng onside – around 30% of its exports go to China. However, China is also an increasingly import source of funding: in 2018 FDI from the Asian country into Chile hit $8.2 billion – a 28% increase over 2017. This has been generated by a wave of strategic acquisitions. For example, in 2018 China's Tianqi Lithium bought a 24% stake in Chile's lithium miner SQM for $4 billion. Chinese companies have also been active buyers in the electricity, renewable energy and agricultural sectors. Perhaps most significantly the Chilean government has signalled that, in a break from past policies, it is now willing to award public sector contracts to Chinese countries – with the contract to China Harbour Engineering Company to build a hydroelectric dam expected to be the first of many such decisions that go in favour of Chinese construction companies.
The Proximo perspective
The biggest question is whether China's recent success in Latin America will be actively countered by the US, which has long seen the region as its "backyard". To date the push-back has been largely rhetorical, and for that ineffective. The US' "Growth in the Americas" initiative was launched in 2018 to boost private sector investments in the region's energy and infrastructure sectors.
However, progress has been slow, unsurprisingly so given private capital's higher sensitivity to political and currency risks that are still prominent features of operating in Latin America.
Clearly – given its record in Venezuela and Ecuador, and now Argentina, China is willing to enter markets where private capital dare not tread. And no matter how it's classed externally, be it "debt-trap diplomacy" or otherwise, by those countries it will be snapped up, because there it will be seen as "the only financing option left in town".