Perspective
19 November 2021
Proximo Weekly: Signed and sealed - but what has been delivered?
Predicting the full impact of the Biden Bill on all new US infrastructure is still very much a speculative endeavour, but there are some certainties that can be drawn for the transport sector.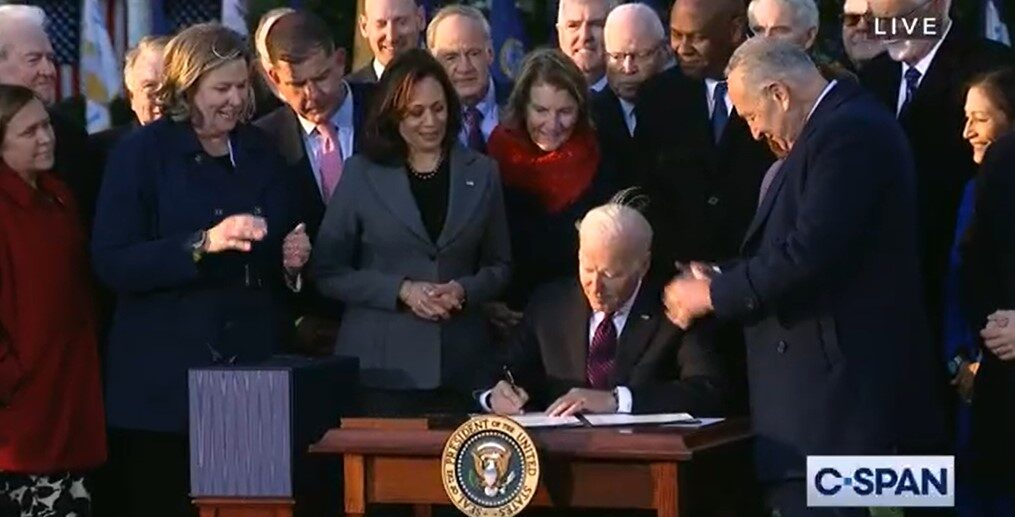 President Biden signed his flagship $1.2 trillion bipartisan infrastructure bill into law this week. With the cogs now truly in motion, the reality of a long-anticipated $1 trillion-plus wave of investment in US transport and renewable energy infrastructure is stirring speculation and activity in the market.
There are a few transport P3's currently in motion and several more on the horizon but despite the bill, general consensus indicates that P3's will continue to be the exception to the rule. Perhaps a lack of willingness on the construction side is to blame due to the significant amount of risk pushed onto contractors by the public sector, which has resulted in the collapse of some recent P3's. Georgia's SR 400 Express Lanes project stands as one such failing, cancelled after succumbing to an astronomical cost increase, which was largely attributed to the pushing of too many risks onto the contractor.
The emergence of Progressive P3's has the potential to allay contractor fears. Effectively functioning as a pre-development agreement, the Progressive P3 model is designed to utilise the delivery and maintenance model of a P3 project while allowing the procuring authority to choose a partner faster, invest less money in the procurement and have more influence over early design, which also saves the bidding teams time and money. If uptake of the Progressive P3 model continues then it could facilitate a P3 resurgence, especially when it comes to mega projects brought about by the bill.
Further comfort on behalf of a maintained P3 market can be taken from current P3 projects which provide the opportunity to serve as templates for deals that will be forged in the wake of the bill being signed. High profile upcoming projects include the Pennsylvania Department of Transportation's (PennDOT) Penn Bridges project, for which three firms have submitted design and construction proposals, the Bechtel-led Sepulveda Transit Corridor connecting the San Fernando Valley to West Los Angeles and the Gateway one-track tunnels, proposed to carry trains deep under the Hudson River as part of a renovation of the Northeast Corridor rail line. Amtrak's redevelopment of Gray 30th Street Station has also gone down the PPP route, as well as the LaGuardia AirTrain in New York and Maryland's Purple Line light rail, which is one of the largest P3's in the US.
State-wise, anticipations are hardly atypical with California, Texas and New York likely to cash in big on the trillion-dollar package. There are rumours of activity in Florida and to some extent the greater DC area and the District of Columbia. If rail is to pan out, then there may also be some activity out in the Midwest with inter-city rail. Though it seems concentrating on active states may be somewhat futile given that it is expected most projects will be carried out at a local level as opposed to a state level. Instead, focusing on the assets we expect to see coming up as a result of the bill seems to be a more fruitful venture. As with the current major P3's previously outlined, road reconstruction, new rail links and airport renovation are the assets drawing the most attention with some consideration for ports.
Roads: Expressways & Bridges
The impetus behind the proposed $110 billion dedicated to roads is re-construction with express lanes and bridges spearheading the anticipated spending in this sector. Roads prevail as the lead spend, unsurprising given that the White House has declared 20% of major highways and roads plus 45,000 bridges are in 'poor condition'.
Express lanes are among the largest P3 projects already in the public domain with the most noteworthy being Virginia Department of Transportation (VDOT) and Fluor-Transurban's Capital Beltway expressway in Washington DC, currently the largest P3 project in the US which has just announced an agreement for further interstate expansion. Other related projects currently include Maryland's recently green-lighted $11 billion express lanes for the Capital Beltway/Interstate-270 highway connector project and the Hampton express lanes project in Virginia which are both still in planning. It remains to be seen what the financial and construction standpoint is going to be for these, especially MDOT's Capital Beltway connector express lanes given the sheer magnitude of the project. Sources within the sector seem confident that express lanes are the most rapidly growing corner of the transportation market with rumours of a Georgia truck toll road project as a potential upcoming P3. So, it would seem that an injection of funding from the bill is likely to catalyse further P3's in that specific sector.
Investment in bridges, similarly to express lanes, is expected to be nation-wide venture. Beyond the seemingly perpetual need for reconstruction of small bridges over creeks, most states will also be looking to invest in the construction and re-construction of larger projects. PennDOT's Penn-bridges stands as the largest example of a P3 bridge re-construction project and is currently in the process of allocating a design, development, and construction contract. A source from within the industry was confident that at least one more 'PennDOT-esque' deal would be coming up in response to the bill.
Rail: Amtrak on Track
The deal will see the largest investment in passenger rail since Amtrak's inception 50 years ago. The $66 billion package will be broken down and assigned to key areas of maintenance and development. $22 billion in grants will be given to Amtrak with the aim of eliminating maintenance backlog, $24 billion as federal-state partnership grants for Northeast Corridor modernisation, $12 billion for partnership grants for intercity rail which includes high-speed rail, $5 billion for rail improvement and safety grants, and finally $3 billion for grade crossing safety improvements.
Although the package assigned to rail is not as large as President Biden had initially hoped for, the recent success of P3's in the rail sector bode well for projects that may emerge as a result of the investment boost from the bill.
Airports: The pandemic predicament
$25 billion dollars has been assigned to airports and airport modernisations, yet it remains to be seen how much activity the sector will see going forward.
On the one hand, it's a good time to invest in airport projects with airport traffic still relatively depressed meaning there's less interference with existing operations by accelerating construction now. The second good reason to pursue such projects today is because interest rates are historically low, the governments or private developers that can lock in interest will significantly reduce project costs. Yet, the need for air travel is still low and the heavy reliance on virtual platforms for business interactions and a working from home business model throughout the pandemic has seen a global transition away from international business travel. Traffic must justify the investment, so potential activity in the airport sector somewhat hangs on the return of business travel which may still reach pre-pandemic levels domestically but remains a severely doubted eventuality on an international level.
Having said that there is current activity in the market and some large private investors are confident that air traffic will return and are forging ahead with deals. Midsize airports around the country are likely to see smaller P3's, with terminal renovations and new terminals being built. It seems hesitancy regarding the current state of the air travel market will come more so from the lenders than equity providers.
Selected news articles from Proximo last week
NORTH AMERICA
PANYNJ tasks panel with review of LaGuardia transit options
The Port Authority of New York and New Jersey (PANYNJ) is undertaking a thorough review of potential alternative mass transit options after the $2 billion rail link project for LaGuardia Airport was put on hold.
SACE to provide insurance coverage for Arctic LNG 2 project financing
Italy's export credit agency SACE has confirmed insurance coverage for funding of Novatek's Arctic LNG 2 project by a unit of Italian bank Intesa Sanpaolo and state lender CDP.
Uzbekistan unveils winning bidder for new Syrdarya power plant
Consortium EDF/Nebras Power/Sojizt Corporation has been announced as the winning bidder following an international tender for a 1,200–1,600MW combined cycle gas turbine power plant to be built in Uzbekistan's Syrdarya region.
MIDDLE EAST & AFRICA
One left in bidding for Facility E
The team comprising Marubeni and Kyushu is left as sole bidder in Kahramaa's tender for the $3 billion Facility E independent water and power project in Qatar.
LATIN AMERICA
Financial close for Colombian road
Mota Engil and Coherpa-Icein's Concesionaria Alternativas Viales has reached financial close for the 256km Ibague-Honda-Cambao-Manizales road project in the Tolima department of Colombia.
The Proximo Membership
Join a brand new community of project finance professionals getting unrivalled access to unique analysis, market data and a global portfolio of expert industry events in the energy and infrastructure space. Click here to find out more